S.PELLEGRINO SAPORI TICINO 2018: "flavours of the World".
One of the most prestigious gourmet festivals in Europe is taking place from April 9 to June 17, and includes 21 gourmet events around Switzerland with world-class international chefs. Furthermore, the festival will host two special nights, dedicated to women and to the most promising young chef.
The 12th edition of S.Pellegrino Sapori Ticino devoted to the connection between the beautiful Ticino and the global cuisine. Hence, the master chefs come this year from India, Japan, the Maldives, France, Spain, Slovenia, Denmark, Germany, Italy and of course Switzerland. As a result, an extraordinary experience of tasting international cuisine and the best wines.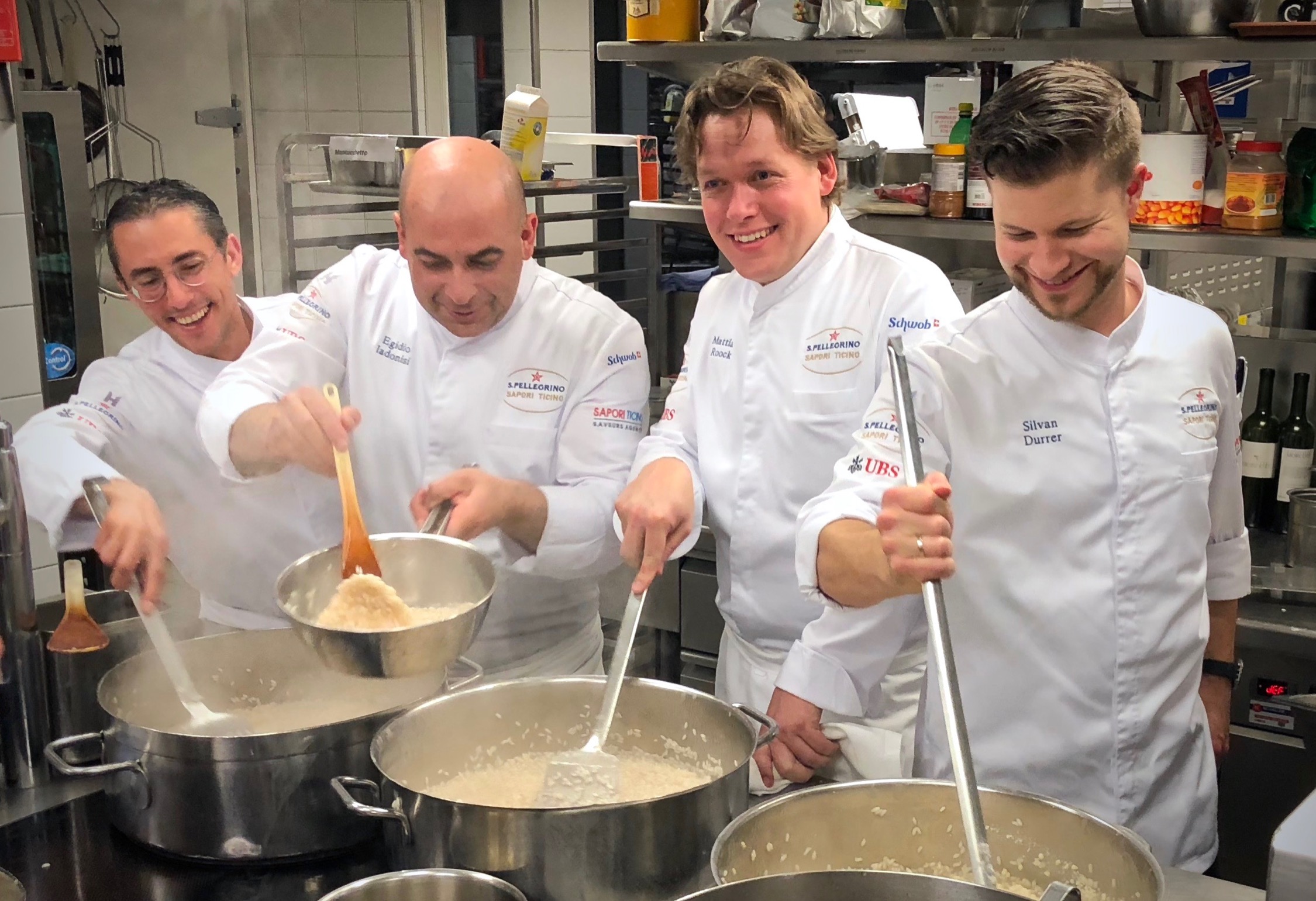 S.Pellegrino Sapori Ticino 2018 starts with three Gala Dinners.
Three hotels, that are members of Swiss Deluxe Hotels, are hosting the Gala dinners. On April 9 in Zurich at the Widder Hotel, on April 11 in Bern at the Hotel Schweizerhof and on April 16 in Geneva at the Hôtel Beau-Rivage. Swiss Deluxe Hotels is the association of 40 the most exclusive hotels across Switzerland. While all of them are beautiful and exceptional, they also share some important qualities in common: the highest quality, best services and high gastronomy.
I was delighted to attend the Gala Dinner at the Hotel Schweizerhof Bern & THE SPA. Besides the beautiful interior, the hotel is well known for its Jack's Brasserie restaurant awarded with 14 Gault Millau points, the unique rooftop Sky Terrace and luxurious 500 m² spa. During the dinner, the executive chef Silvan Durrer, together with guest-chefs Andrea Muggiano, Egidio Iadonisi, Mattias Roock and Mauro Grandi, created for us an incredible gourmet menu. The dinner was amazing, indeed. I really enjoyed the exquisite combination of excellent wines with magnificent meals.
Guest chefs S.Pellegrino Sapori Ticino:
Anand Gaggan – a true Indian food artist from Gaggan Restaurant in Bangkok, in addition the number 1 of Asia's 50 Best Restaurants.
Paolo Casagrande – famous chef, who has 3 Michelin stars with his restaurant Lasarte in Barcelona.
Andrea Migliaccio – from the Ristorante L'Olivo in the Capri Palace Hotel, also has 2 Michelin stars.
Michael Kempf – one of the greatest gastronomic talents from Berlin, directly from the renowned Restaurant Facil.
Rico Zandonella – from RICO'S restaurant in Küsnacht, Zurich. He was awarded with 2 Michelin stars and 18 Galt&Millau points, as well as Gault&Millau 2017 Chef of the Year's title.
Tomaž Kavčič – renowned chef, who introduces the flavours of Slovenia

.

Giacomo Gaspari – brings the Maldives to Ticino.
Norbert Niederkofler – talented chef from the Ristorante St. Hubertus at the Hotel Rosa Alpina in San Cassiano, he also has 3 Michelin stars.
Wicky Priyan – from Wicky's Wicuisine in Milan, will introduce a traditional Japanese cuisine mixed with the best Mediterranean ingredients.
Søren Selin – from the AOC restaurant in Copenhagen, he has 2 Michelin stars.
Emmanuel Renaut – from the Flocons de Sel in Megève, he has 3 Michelin stars and presents authentic French cuisine.
PROGRAMME:
29 April – Grand Opening – Hotel Splendide Royal, Lugano.
You may also be interested in checking the highlights and photos from the last year Grand Opening Night, as well as details about Hotel Splendide Royal, Lugano  -> S.Pellegrino Sapori Ticino 2017.
May:
05/06 May – Claudio Bollini meets Anand Gaggan – at Seven Lugano The Restaurant, Lugano.
13 May – Frank Oerthle meets Paolo Casagrande – at Grand Hotel Villa Castagnola, Ristorante Galleria Arté al Lago, Lugano.
16 May – Niccolò Pilastro meets Andrea Migliaccio & Baron Philippe de Rothschild – at

ARVI Secret Spot, Melano.

17 May – Lounge Night – at La Bottega di Mario, Zurich.
20 May – Dario Ranza meets Michael Kempf – at Villa Principe Leopoldo, Lugano.
21 May – Ladies Evening with Aurora Mazzucchelli – Ristorante Metamorphosis, Lugano.
22 May – Young Chef Night – Seven Lugano The Restaurant, Lugano.
27 May – Mattias Roock meets Rico Zandonella – at Castello del Sole,  Ascona.
28 May – Domenico Ruberto meets Tomaž Kavčič – at Hotel Splendide Royal, Lugano.
29 May – Mauro Grandi meets Giacomo Gaspari – at THE VIEW Lugano.
31 May – Lounge Night – at Seven Lugano The Lounge.
June:
2 June – Luca Bassan meets Norbert Niederkofler – at Fiore di Pietra, Capolago.
3 June – Egidio Iadonisi meets Wicky Priyan – at Swiss Diamond Hotel, Vico Morcote.
7 June – Lounge Night – at BLU Restaurant & Lounge, Locarno.
11 June – Riccardo Scamarcio meets Søren Selin – at Villa Orselina, Orselina-Locarno.
12 June – Nicola Costantini meets Emmanuel Renaut – at Ciani Lugano, Lugano.
17 June – Final Party – Casinò Campione d'Italia, Campione d'Italia.
PRICES:
Grand opening and Final Party – Hotel Splendide Royal Lugano / Casino Campione D'Italia – CHF 270.– p.p.
Official Nights – varied location in Canton Ticino – CHF 290.– p.p.
Andrea Migliaccio meets Baron Philippe de Rothschild – Arvi Secret Spot Melano 

– 

CHF 395.– p.p.

Emmanuel Renaut meets Château Angélus – Ciani Lugano 

– CHF 350.– p.p.
Ladies Evening – Metamorphosis, Lugano – CHF 250.– p.p.
Young Chef Evening – Seven Lugano The Restaurant, Lugano – CHF 150.– p.p.
Lounge Evening – varied locations in Ticino – CHF 70.– p.p.
More details you may also find on its official website.
Without a doubt, S.Pellegrino Sapori Ticino once again confirms itself as one of the most important international gastronomic festivals.
If you have any questions, don't hesitate to contact me -> GET IN TOUCH.
BE HEALTHY AND WEALTHY! :)